Of course, the focus of our investments is Carinthia, nevertheless SEE offers potentials which are attractive in the economic sense. For these purposes in 2009 KI-Kelag International GmbH was established which pools all activities abroad.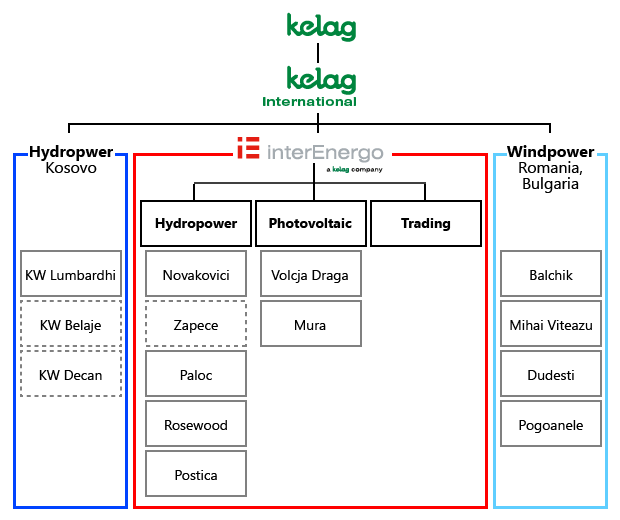 Our own production is based on many years of experience and thorough knowledge of the local potentials, needs and requirements. As a member of the Austrian energy group Kelag, we benefit from sharing the knowledge and experience that Kelag has gained through its long tradition of designing, building and managing energy generating facilities.
We are building new energy generating facilities and renovating old facilities in all countries of former Yugoslavia. We have a comprehensive approach towards the construction and renovation of facilities; special emphasis is placed on protecting the natural environment while also ensuring that operation is technically smooth and economically efficient in the long term.
In the field of wind power, the focus is also placed on Romania and Bulgaria as excellent wind sites. KI-Kelag International GmbH is particularly invested in projects with up to 30 MW.
Since the establishment of KI, several projects have already been successfully implemented. There are already ten small hydroelectric power plants, four wind farms and several photovoltaic plants in operation.
Management
DI Ingo Preiss
Ingo Preiss is working for KELAG since 2004 as leading engineer and project manager in several hydro power plant projects in Austria and abroad. Since the formation of KI-KELAG International GmbH in the year 2009 he was significantly involved in the development of the international business in South East Europe. Within the international business he is managing director in the subsidiary in Kosovo and authorized signatory of Interenergo d.o.o. in Slovenia. Mr. Preiss acts as an expert for international activities in the generation / technical services department within the KELAG group. In April 2017 Ingo Preiss has been appointed as Managing Director of KI-KELAG International GmbH.

DI Dr. Bernd Neuner
Bernd Neuner has worked for Kelag Group since 2008 where he has supported the establishment of the international business from the very beginning. In particular he has been in charge with the development of the international wind energy business and has acted as managing director in several subsidiaries in Romania, Bulgaria and Austria. Within Kelag group he is head of department M&A/International markets since 2015.
In April 2017 Bernd Neuner has been appointed as Managing Director of KI-KELAG International GmbH.